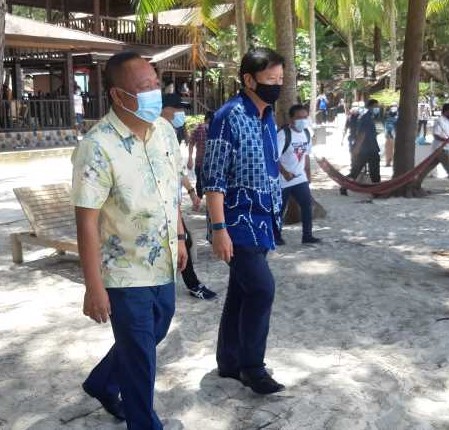 KOTA BELUD: Sabah is eyeing to bring in holidaymakers from Singapore via the travel bubble plan after Hari Raya Aidilfitri, revealed Minister of Tourism, Culture and Environment Datuk Jafry Ariffin.
He said discussions are now underway between the governments of Malaysia and Singapore on the standard operating procedure (SOP), whilst the State Tourism Ministry are in the midst of scrutinizing the SOP with the airline company and airport management.
Next, they will discuss with the Foreign Affairs Ministry and Transport Ministry and this will take place maybe after Hari Raya, he said.
At the moment, they are still waiting for the decision at federal level as Sabah allowed travelling but based on zones among the districts as in the future a new norm for travelling will be introduced, he said after launching 40-unit new premium chalets of Sutera @ Mantanani Island Resort & Spa in Mantanani Island on 31 March 2021.
He was happy with the new chalets as it has created jobs for the islanders especially when we are facing the economy pressure from the worldwide Covid-19 pandemic.
"We wish to thanks Sutera Harbour Resort (SHR) for the willingness to make big investment in the tourism industry in Sabah to promote growth," he said.
He also called on the tourism players to give priority and encourage the participation from the local community whether in providing jobs or handling the tourists to help revive the state's economy.
Jafry also asked the tourism players to be patience on their calls to reopen of the state borders for international travel as the government had to be cautious during this recovery period to prevent any recurrence on the spike of Covid-19 cases.
Also present were Pintasan Assemblyman Fairuz Renddan and SHR and [email protected] Group CEO Gilbert Ee.-HS