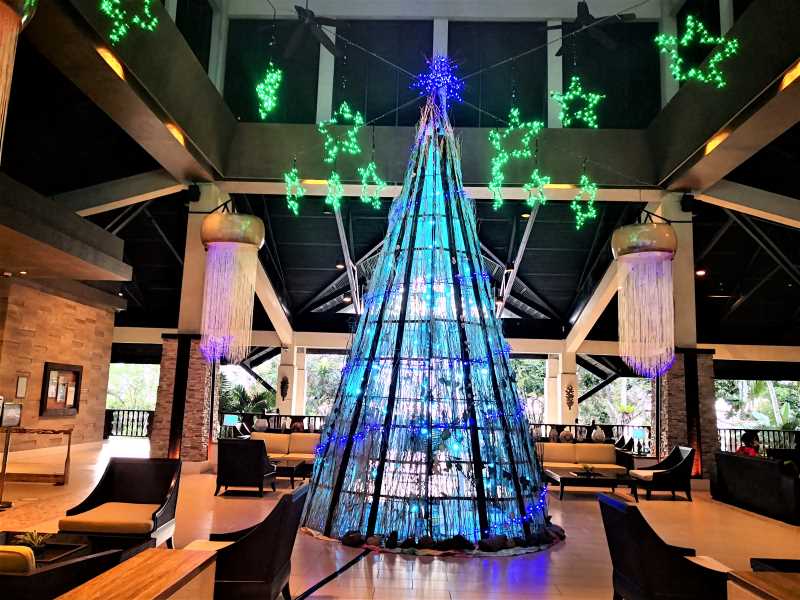 Shangri-La's Rasa Ria Resort & Spa welcomes this festive season staying true to its eco-friendly roots and community outreach action.
The resort unveiled a sustainable tree and decorations to mark the beginning of the festive season.
Taking center stage at the main lobby of the hotel, the tree has been made using recycled and reusable materials including repurposed bamboo sticks, driftwood, and the iconic fiber optic jellyfish lights from the newly renovated Coast.
This tree has also been beautifully adorned with seashells, to give an underwater feel to the ambiance.
The tree stands as a testament to what the resort believes in – taking steps to protect the oceans by eliminating available single-use plastics, reduce waste and focus on socially responsible actions to support the community.
The idea was first mooted when a team of colleagues collected a large quantity of driftwood, twigs, and shells from the resort's beachfront during the Movement Control Order, a voluntary activity to help clean the beach of waste.
It took more than 36 hours (about 1 and a half days) of combined efforts of the Engineering, Housekeeping and Carpentry teams to put up the tree and decorations. Complementing this tree is energy efficient lighting that further minimizes the carbon footprint.
Festive season is also a time of giving back to the community. The Rasa Ria family has been invested in supporting the environment and the community through several initiatives.
Stemming off its corporate social responsibility programme this festive season Rasa Ria embarks on its mission of bringing smiles to some of the most vulnerable people in Sabah.
A wooden repurposed mini–Christmas Tree crafted by the Rasa Ria Carpentry Team will help draw focus and support this drive.
Anyone can join Rasa Ria on this journey and with RM25 they can not only get a handcrafted tree but also help play a role in spreading some cheer this season of giving.
Each afternoon, both children and adults can paint and decorate their mini trees as well. All proceeds from the sales of these trees will go to Bukit Harapan – a shelter home not only for disabled children but also abused, single and disabled women.
"Community support has always been at the heart of whatever Rasa Ria does. We thrive when we all thrive together.
"I encourage you all you join us on this endeavour to leave a lasting positive impact on both the community and the environment.
"Your generous support for our mini tree initiative will help support the vulnerable members of the community.
"As 2020 draws to a close, I am deeply humbled by the support from the community and remain even grateful to our guests, partners, and associates. We wish everyone for a safe and happy festive season" said general manager, Fiona Hagan.
Rasa Ria is also open to welcoming guests for stays, dining and activities with enhanced safety protocols.
Guests can choose to celebrate this festive season with a variety of offers including delectable dining spreads like the roast turkey and local seafood favourites along with special room offers and family friendly activities.
For more information on Christmas by the Beach holiday, please visit https://www.shangri-la.com/en/kotakinabalu/rasariaresort/offer-detail/rooms-suites/beach-staycation
For more information on Christmas dining offers, please visit https://www.shangri-la.com/en/kotakinabalu/rasariaresort/offer-detail/dining/festive-dining-offers/-HS