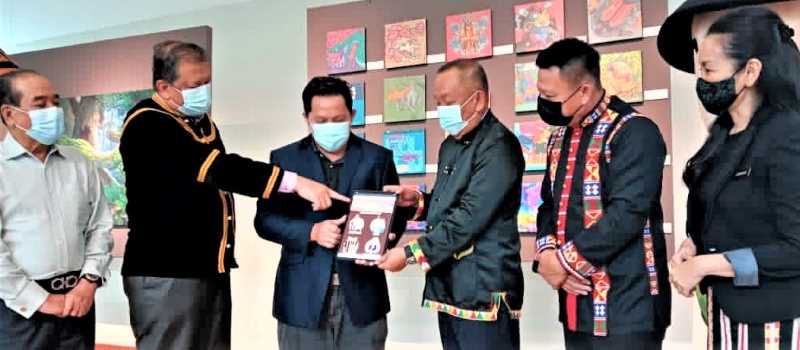 KOTA KINABALU: Now everyone can get the information of the diverse ethnicity and culture of Sabah at their fingertips following the launch of the Sabah e-culture application yesterday.
Tourism, Culture and Environment Minister Datuk Jafry Ariffin said the application is in with the concept of 5A (accessible by anyone at anytime, anywhere and by any mobile device).
Themed 'Towards Sabah Digital Cultural Digitization', the initiative was in line with the Sabah Cultural Development Plan, said Jafry during the lauching ceremony at the Sabah Art Gallery here.
The educational and infographic application was developed by the Sabah Cultural Board (SCB) in collaboration with Alpha Graphic Mobile Apps Developer since early November 2020, he said, adding that the application can be downloaded for free from the Google Play Store for both Andriod and Apple IOS phone users.
The application contained the information about the ethnicities and cultures found in Sabah such as history and background; hereditary customs; beliefs, practices and taboos; traditional music instruments and traditional dance; traditional ethnic relations; traditional food; and ethnic language, he said.
At the moment, the application contained the information for the ethnicities of Kadayan, Rungus, Lundayeh, Kagayan, Cocos, Kujau, Murut Kolor, Iranun, Idahan, Subpan, Tombonuo, Tobilung, Sandayo, Tinagas, Sukang, Sino Native, Dusun Kimaragang, Sonsogon, Tatana and Bannaran.
And for gamers especially the young generation (Gen-Y and Z) they can try out the mini puzzle game to learn the culture found in Sabah, he said.
He said the application displayed in Bahasa Melayu and ethnic langauge is also user friendly for the public especially researchers, students of higher learning institutions, school students, local tourissts and so on.
In addition, he said the appliction is connected directly to the SCB official website, social media, feedback on e-equiries and activities. Also present was Tourism, Culture and Environment Assistant Minister Datuk Joniston Bangkuai.-HS