SEPANG, 20 November 2020 – AirAsia continues to revolutionise air travel with numerous new innovations deployed over recent times to further improve the customer experience and make flying not only safe and affordable, but also more seamless and contactless than ever before.
AirAsia has partnered with digital transformation company GrayMatter to launch Scan2Fly, an industry leading technology that can determine a passenger's eligibility to fly before they arrive at the airport, including real time verification of relevant health documentation.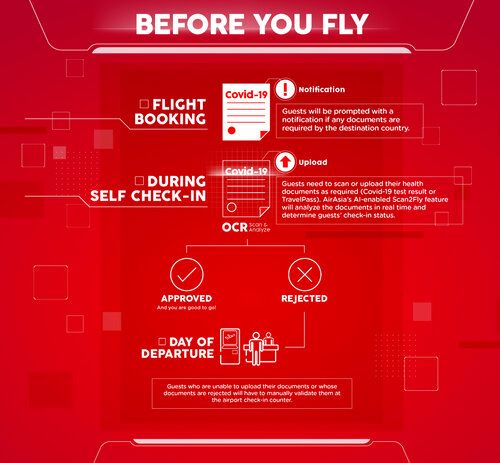 With Scan2Fly, AirAsia guests can scan and upload their medical certificates during the online self check-in process. This includes the corresponding processing of any required documents to verify whether the passenger is approved to fly by the various authorities and possesses a valid COVID-19 Negative Certificate.
The system has been successfully implemented by GrayMatter and has already gone live for a number of AirAsia flights from Malaysia's KLIA2 Airport to/from Singapore as well as to/from Surabaya and also will be launching soon for flights to and from Jakarta. The cloud-hosted technology is very tightly integrated and tailored to AirAsia's applications and is also equipped with robust information security which will be eventually be introduced to other AirAsia destinations, where valid travel documents are required prior to travel.

Scan2Fly delivers numerous efficiencies for AirAsia with reduced staff interaction at the airport and provides guests with peace of mind, before travelling to the airport. Once the documents are uploaded, a report is provided automatically with the approval/rejection status, including the reason for any rejection.
At the same time, AirAsia announces numerous other recent enhancements in conjunction with strategic partner Vision-Box, including automated bag drop services, roving technology for temperature checks, and biometric facial recognition technology F.A.C.E.S. (Fast Airport Clearance Experience System) – the airline's contactless facial recognition passenger processing system. The airline is also working with Vision-Box to further deploy numerous other touchless experience systems such as digital identity management across the airline's travel and finance ecosystem.
Javed Malik, COO of AirAsia Group said "Innovation has always been in our DNA. Our digital transformation continues to gain momentum as we work hard to make travel in this new world more secure, hygienic, contactless and seamless than ever before by improving our digital capabilities which reduce costs and further enhance the customer journey. As we pivot into a one-stop travel and lifestyle platform, there are many more innovations in the pipeline which we will announce in due course."
***
About GrayMatter
GrayMatter is a Big Data, Analytics, Data Science, Artificial Intelligence & IoT Data Integration specialist company with over 200+ successful BI implementations across USA, EMEA & APAC across multiple industries, with focus on airports.
From its inception till now GrayMatter has enhanced its deep domain and technical expertise and has developed industry specific products including Airport Analytics (AA+), Store Sense, Sky Edge and Car Park Revenue Management (CPRM) for Airports. GrayMatter has been acknowledged and featured in Airports International, Passenger Terminal, Airport Focus, Airline & Airport Suppliers, Bloor International, NASSCOM, SAP, Silicon India, Helsinki Hub, CIO Review, and many others.
About Vision-Box
Vision-Box is a multinational company with a presence on 5 continents and over 6,000 digital identity solutions used by more than 700 million citizens. The company is a world leader in biometrics seamless travel, automated border management and electronic identity management solutions. Vision-Box's technology is present in more than 80 airports worldwide. Responsible for the most relevant advances in the use of biometrics, Vision-Box solutions streamline the passenger experience throughout their journey and improve the efficiency of public services to ensure safety, security and performance.
Based in Portugal, the company has 12 offices around the world in countries that include the United Arab Emirates, United Kingdom, Australia, Japan, USA and India. -HS