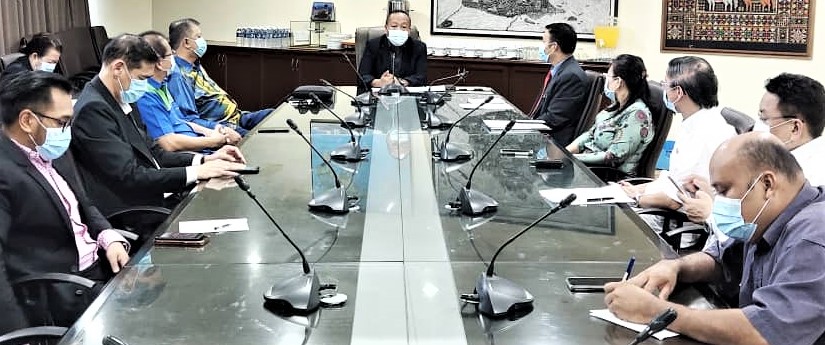 KOTA KINABALU: The Sabah Ministry of Tourism, Culture and Environment (KePKAS) will set up a state tourism industry recovery committee to help the tourism industry players.
Its Minister, Datuk Jafry Ariffin said, the committee will comprise all the representatives from the tourism industry players where they will be tasked to discuss and formulate strategies to revive the ailing Sabah tourism industry which was badly hit by the COVID-19 pandemic.
He announced this during a meeting session with the industry players at Wisma Tun Fuad Stephens, Karamunsing today.
The meeting were attended by Assistant Tourism, Culture and Environment Minister Datuk Joniston Bangkuai, KePKAS permanent secretary Dr Jamili Nais and Sabah Tourism Board general manager Noredah Othman.
The others were the Malaysian Association of Tour and Travel Agents (MATTA) president Datuk Tan Kok Liang; MATTA Sabah chairman Lawrence Chin; the Sabah Association of Tour and Travel Agents (SATTA) chairman Dato' Seri Winston Liaw; the Sabah Tourist Guide Association (STGA) president Grace Leong; the Malaysian Association of Hotels (MAH) Sabah Chapter acting chairman Hafizan Wong; the Sabah Budget Hotel Association vice chairman Terence Sak; and the Sabah Native Registered Tourist Guide Association deputy chairman Dabalun Balau.
Among others, the issues raised during the meeting were the government's allocation to be channelled specifically to help the tourism industry and the workers welfare.
Other than that, the Tourism Ministry will work with several relevant agencies to look into the feedbacks by the tourism players, especially those related to the allocation.
Meanwhile, Joniston said the committee is expected to hold its first meeting next week which will be chaired by him to discuss the strategic action plans to empower the tourism industry that had been affected by the COVID-19 pandemic.-HS