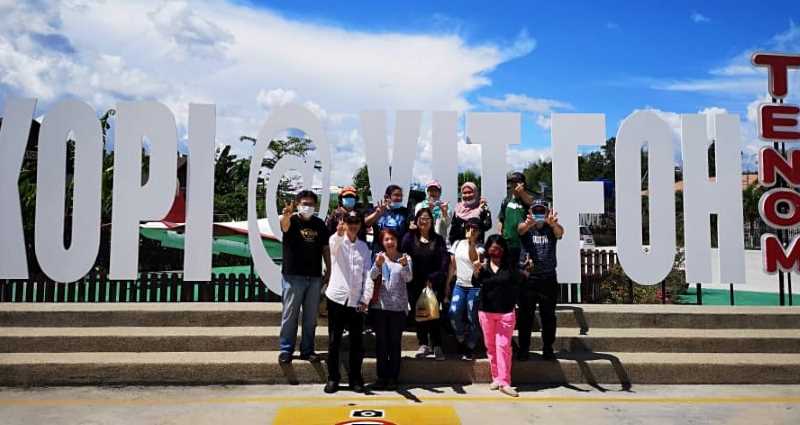 KOTA KINABALU: The Malaysian Association of Tour and Travel Agents (MATTA) Sabah Chapter has recently embarked on a day trip to the interior areas to inspect the tourism products there.
Its honorary secretary, Alicia Gomes who led the MATTA Sabah entourage said the purpose of the brief sojourn was to get the latest updates of the touristic attractions in Keningau and Tenom.
"Although we are still under the Recovery Movement Control Order (RMCO) to curb the spread of COVID-19 infection, we still need to stay proactive to keep ourselves in the know about the tourism products," Alicia said.
The tourism players need to be creative nowadays to introduce more variety and choices for visitors to choose from instead of the traditional products such as the Tunku Abdul Rahman Park and the Kinabalu Park, among others.
During the stopover, the MATTA members visited the weekend bazaar ground and try some of the local food in Tenom before proceeding to Yit Foh Coffee Factory Sdn Bhd to do product inspection.
Yit Foh Coffee founded by Yong Loong Vun in the 1960s is arguably the oldest and one of the most famous coffee manufacturers in Sabah.
Overtime, his son Alex who took over the business in 1986, after his father passed away has upgraded the coffee factory with 12 chalets known as Yit Foh Coffee Park to promote overnight stay so that visitors can continue to explore the attractions in Tenom as they endeavour to develop rural tourism.
The park sited on a piece of 7-acre land is boosted with a coffee house cum shop corner, a restaurant, a coffee making factory and a single propeller plane, to remind visitors their 'Cap Kapal Terbang' brand coffee powder.
After visiting the coffee town, the entourage continued their journey to visit the Eco Yap Agriculture and Livestock Farm at Kampung Bomboi, Keningau at the invitation of owner Datuk Yap Yun Fook.
The objective of the visit was to study the potential to promote agro tourism as the 150-hectare eco farm has almost 40 years of interesting stories to share to visitors.
Yap who was on hand to brief the tourism players said today he owns more than 6,000 dairy cows after started off with only two in 1982,
Overtime, he has diversified the dairy cow farm to rearing the empurau, tilapia and keli fish (at different location), goat, deer, crocodile, pineapple cultivation and organic vegetables farming.-HS