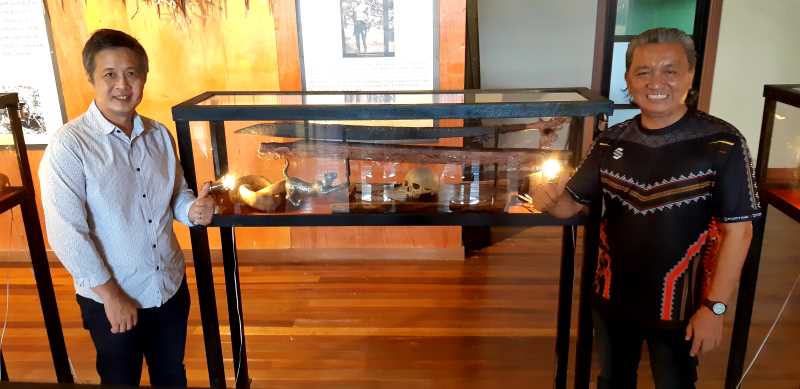 TUARAN: A variety of head-hunting swords dating back to the 1800s are showcasing now at the Ruang Rumah of the Rumah Terbalik & 3D Wonders Museum in conjunction with the International Day of the World's Indigenous Peoples 2020.
The exhibition themed 'The Borneo Head-Hunting' started from July 8 till December 31, featured collections of 14 antique head-hunting swords that had been used for beheading enemies.
The exhibition is held in collaboration among Rumah Terbalik, Muzium Lotud Borneo, Sabah Museum and Sabah Archives.
Muzium Lotud chief executive officer cum founder Pediman Jabau said the swords that they display are all authentic except for the skulls which are not. Those who are curious to see the real skulls can go to the Sabah Museum.
"The swords we see here belonged to the ethnic tribes of Dayak, Lotud, Iban, Murut and Rungus which are the indigenous people of Borneo. The collections are more than 250 years old," Pediman said.
It will be intriguing for the visitors to get a closer look at all the swords as some of them are dotted or with markings to indicate the number of heads that has been beheaded by the sword's owner during the ancient time.
Also featured are several Japanese swords used by the Japanese imperial soldiers during the Second World War in Sabah. The different design of the swords indicated the rank of the officers, he said.
According to Pediman, all the swords which was once used by the warriors to behead their enemies has since been 'harmonised' through an appeasing ritual ceremony.
Rumah Terbalik owner Alexander Yee said they collaborated to organise the latest exhibition as both of them are members of the United Tuaran Tourism Association.
"This is my contribution to promote the culture of the Lotud Museum in the Ruang Rumah since I have an exhibition space here.
"Furthermore, this is also inline with our activities of within a year we rotate two exhibits for public consumption after we have done the Christmas exhibition.
The exhibition was supposed to be held early this year but postponed to this month after the easing of the movement control order, he said.
"And the idea is for the people who have seen the exhibitions and if they want to see more, we will divert them to the Lotud Museum," Alex said.
Visitors who purchased the tickets for the Rumah Terbalik will only need to add-on RM3 if they want to enter the Ruang Rumah, and RM5 for those only interested to see the exhibition.-HS