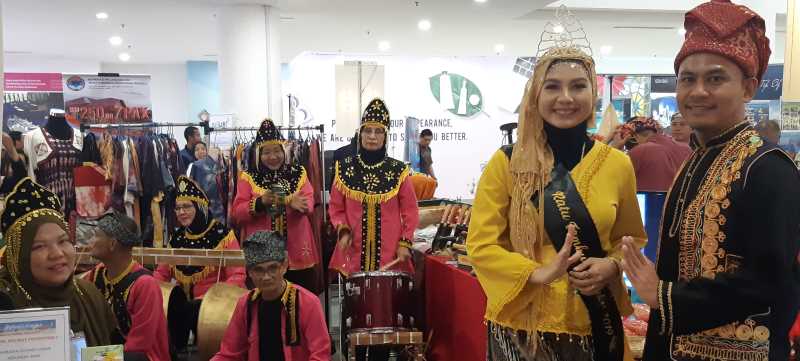 KOTA KINABALU: There is a hidden community-based tourism destination awaiting to be explored in the east coast of Sabah.
In the offing is the riverine resort providing a relaxing atmosphere at Pulau Buta Eco Tourism perched in between oil palm plantations and mangrove forest.
This relatively offbeat destination particularly to foreign and domestic travellers alike is situated in Kampung Telisai, Tungku, about 60 kilometres away from Lahad Datu town.
"We are promoting a place for visitors to escape from the hustle and bustle of the city life and offer a place for them to unwind," Pulau Buta Eco Tourism managing director Jessica Reyes said.
"We are now actively selling our products to international and domestic markets, but our momentum has hit a snag due to the outbreak of Covid-19.
"We were supposed to get some visitors from Bama Yao autonomous county this month, but the tour package has to be cancelled due to the pandemic," Jessica disclosed.
She and her entourage has embarked on a familiarization trip to Bama Yao in Guangxi, China end of last year and also celebrated the New Year there.
"The Covid-19 is really affecting our business especially our chalets, dormitories and all programme has been cancelled for almost four months…we are very sad and at the same time no income at all," Jessica shared.
Despite the challenging time, the management still have to pay all the staff every month and now we are working very hard to sell back our package to our customers but unfortunately no more is coming, she said.
"During the normal day, our place welcomed a lot of people during the weekends as the guests would come for picnic and fishing," Jessica said adding that, the accommodation can caters for 16 person at one time and the visitors also have the option to choose the twin sharing rooms too.
The destination is also a favourite place for school students to carry out their outdoor camping activities during the school-term holidays, but this year has been quiet, she said.
She also thanked the Malaysian Productivity Corporation and the Tourism Productivity Nexus for giving them the initiative to develop their products and sites.
"To lure the visitors, I have designed a lot of affordable packages which is open for booking now but it seems that there is no respond," she said.
The Pulau Buta Eco Tourism began operation four years ago catering mostly local holidaymakers in the east coast is now working hard to tap the international and domestic markets.
"Our uniqueness is watching scores of alligators crossing the river, the bats took flights in the hundreds during nightfall from the nearby cave and the famous proboscis monkeys during a river cruise as well as the owls during full moon," Jessica said.
Besides sightseeing the fascinating wildlife, they also have recreational and fun activities for kayaking, banana boat ride and fishing activities.
The visitors will also be treated to the Bajau Balangingi traditional dance which is the native of Tungku.-HS