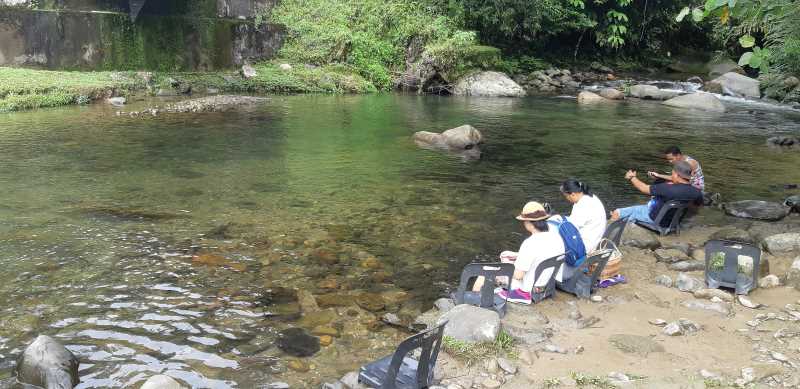 KOTA BELUD: The introduction of tagal system in the early 2000's has seen the villagers of Kampung Melangkap Tiong reaping the benefits from tourism activities.
Tagal or bombon is a unique community-based fisheries resource management system designed by the Sabah Fisheries Department to prohibit fishing activities in the river for a certain period of time.
Overtime, the river has been thriving with fishes and other marine creatures and brought new experience to the villagers as the undisturbed river has attracted scores of visitors to enjoy their weekends there.
Soon the idea about developing the site into a tourism product came after the villagers saw the success in Kampung Luanti Baru, Ranau which has become the inspiration to many in transforming the river into a feet fish spa.
"We have also observed how they fed the fish. The owner, who is the pioneer in doing the river fish spa didn't teach us, but we learnt from observation as well as trials and errors," 53-year-old Soulin Solidap shared.
Soulin who is the person-in-charge of cultural and a committee member of the Melangkap Tiong Eco Tourism said they had been quietly developing the site starting from 2014 until now.
The turning point came when the government carried out the rural development project to tar the gravel road leading to the village in 2017, after the road was badly damaged by the earthquake in 2015, she recalled.
The good road condition had in fact boosted the arrival of visitors to the Paramat River sited at the foothills of Mount Nopunguk with Mount Kinabalu at the backdrop.
The community-based ecotourism site has not only created job opportunities for the participating villagers but has also improve their economy through the payment of year-end dividends derive from tourism activities.
Besides the river fish spa as its main attraction, the visitors can also take a swim in the river apart from feeding the fishes and relaxing at the bamboo-made resting huts.
"The entry and rental fees we collected will be utilised to further improve the ecotourism site so that we can cater for more people," she said.
However, there is no tourism activities in Kota Belud for the time being due to Covid-19 outbreak, furthermore the operators are still extra cautious.-HS